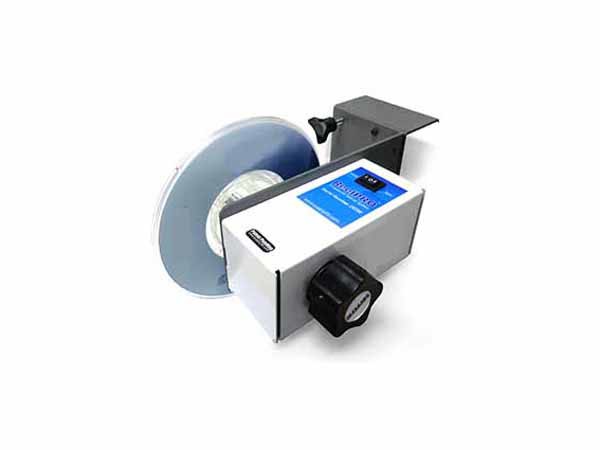 ReelPro Take up reels
Patent Pending
Tired of damaging print jobs as they hit the floor collecting dust and dirt?
Would you like to run your printer unattended?
Would you like to start minimizing waste from damaged prints?
If you answered "yes" to any of the above questions we have the answer: ReelPRO™
ReelPRO is an affordable, easy to install, easy to use take-up system which will allow you to take control of your workflow. At the heart of ReelPRO is a proprietary patent pending drive train developed by our supplier, Supply55 which provides superior performance and reliability. ReelPRO will immediately start saving you money through improved efficiency when printing longer jobs: banners, vehicle wraps, wallpaper, signs, etc.
Features
Unattended printing
Avoid dust and dirt on printed images
Eliminate waste through improved workflow
Stop kinking and scratching prints as they are moved from the printer to your work tables, or as they hit the floor
Improve your profitability through improved efficiency
Specifications
Max Media Weight
Up to approx. 45 lbs (20.41 kg)
Power Requirements
110 VAC
Maximum Spooling Speed
8 ft/min (243.8 cm/min)
Take-up Core
Supplied by customer
Functionality
Forward/Reverse
Shipping Dimensions
17 x 13 x 9 in (432 x 330 x 229 mm)
Shipping Weignt
10 lbs (4.54 kg)
Printer Compatibility
For a complete list of compatible printers, click the button below.
Pricing
Item
MSRP
ReelPRO Base Unit
55-TU01
$795.00
Roland VS-RE Bracket Kit
55-TU01-VS
$49.95
Mutoh 1204/1304
Bracket Kit
55-TU01-12041304
$59.95
Mutoh 1604/1614
Bracket Kit
55-TU01-16041614
$99.95
Epson Bracket Kit
55-TU01-EPSON
$39.95
Universal Extender Bracket Kit
55-TU01-010
$79.95
 Freight & Brokerage (If required) extra
To order call Craig @ 416-518-9275 or craig@theequipmentguy.ca
Related Products