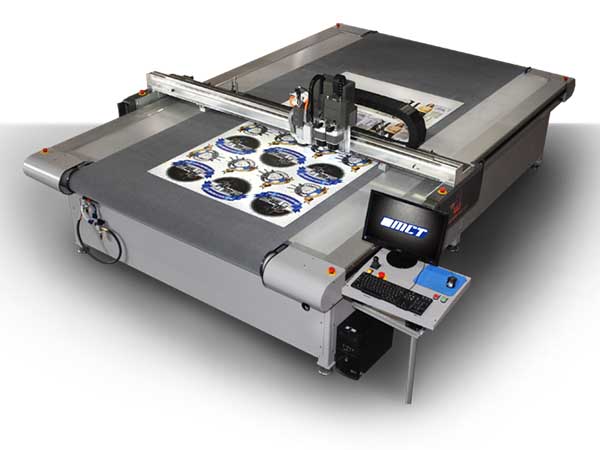 For Sale NEW MCT VersaTech Digital Cutting table
Call or email to receive a quotation
Versa-Tech™ 1.6 meter flatbed digital finishing cutting system with: 10hp Vacuum Regenerative Turbine Blower with reverse control, Aluminum Composite Flatbed surface, PC Based Computer Control System, Vision Registration Software, CCD camera with LED lighting, 2.5kW water cooled router with chiller (optional).
Includes
Driven rotary cutting tool with auto-sharpening capability for porous fabrics and textiles
Tangential drag knife for non-permeable textiles
Oscillating knife for thicker woven textiles and light rigid boards
Crease tool for carton and corrugated boards
Kiss-cutting tool for adhesive backed vinyl and film
Angle v-cutting tool for honeycomb corrugated
Waste Vacuum System
Rolled Material Holder
Automated Conveyor Belt Feed System
Spares Kit Pack/starter bits & blades
For a brochure on the MCT VersaTech Table click HERE  <~~If you are considering a Flatbed die cutter or router, you SHOULD DEFINITELY read this brochure!!!
For info call Craig at 416-518-9275 or
craig@theequipmentguy.ca